News / Webinars / Podcasts
Support Measures in Fighting Negative Impacts of Covid-19 Pandemic.pdf

This regional overview provides brief information regarding support measures brought by some of the Balkan countries in fighting negative impacts of Covid-19 pandemic on their economies.

Support Measures in Fighting Negative Impacts of Covid-19 Pandemic.pdf

January, 2021

Podcast: Restrictive Covenants in Croatia

In the Podcast, Michaela Felisiak from Beiten Burkardt, Germany as the moderator and Hrvoje Vidan as the speaker present and discuss restrictive covenants in Croatia, which intend to prevent former employees from competing with their employers once their employment has ended.

December, 2020

The Essentials About Croatian Employment Law provides investors and legal practitioners an insight into the essentials of the Croatian employment law

June, 2020

COVID-19: Europe guide for employers

In this white paper, the ELA members from 34 jurisdictions across Europe have provided answers to the most pressing questions regarding how different countries are managing the pandemic and taking steps toward recovery. This is a guide for European employers, listing the appropriate actions they must take in order to meet the needs of their employees, while also making important choices necessary to keep business moving forward.

May, 2020

Effects of Covid-19 on Directors Obligation to File for Insolvency 2020

The Effects of Covid-19 on Directors Obligation to File for Insolvency 2020 provides brief information from the regional perspective regarding the duty of directors/management to file for insolvency, should the company become insolvent during the Covid-19 pandemic or because of its impacts.

Effects of Covid-19 on Directors Obligation to File for Insolvency 2020

May, 2020

Effects of Covid-19 pandemic on lease agreements

This regional overview provides brief guidelines regarding some of the most often asked questions relating to the influence of business disruption caused by Covid-19 pandemic on commercial lease agreements

May, 2020

Together with Ulcar & Partners, Doklestic Repic & Gajin and Georgi Dimitrov Attorneys, Vidan Law Office has established Lex Adria, an alliance of leading independent law firms in the Adriatic region

Lex Adria is an alliance of leading independent law firms in the Adriatic region, providing seamless and premium legal support across the area. The alliance enhances the regional capabilities of its member firms, which through Lex Adria provide high-quality, uniform and efficient cross-border legal support. The founding partners of the alliance are leading business law firms in Serbia, Croatia, Slovenia and North Macedonia.




May, 2020

Law Office Vidan has become a business member of the Nordic Chamber of Commerce in Croatia

We are pleased to announce that on 1 April 2019 Law Office Vidan has become a business member of the Nordic Chamber of Commerce in Croatia




April, 2019

Employment and employee benefits in Croatia

Employment and employee benefits in Croatia gives a high level overview of the key practical issues including: employment status; background checks; permissions to work; contractual and implied terms of employment; minimum wages; restrictions on working time; illness and injury; rights of parents and carers; data protection; discrimination and harassment; dismissals; redundancies; taxation; employer and parent company liability; employee representation and consultation; consequence of business transfers; intellectual property; restraint of trade agreements; relocation of employees and proposals for reform.

Thomson Reuters, Practical Law Global Guides (2019)




March, 2019

Nullity of loans in Croatia

The Financier Worldwide October 2018 issue deals with the issues and potential impacts that the recently adopted Act on Nullity of Loans with an International Element Concluded in the Republic of Croatia by Debtors and Unauthorised creditors may produce on numerous credit arrangements concluded within the last 15 years.

Financier Worldwide, October 2018




October, 2018

Validity in Croatia of terminating the employment of a pregnant employee during her probation period

In the June 2018 issue of the Financier Worldwide magazine, a focus has been put on validity of terminating the employment of a pregnant employee during the probation period in light of recent changes to the Employment Law.

Financier Worldwide, June 2018




June, 2018

Croatia: validity of restrictive post-employment non-compete covenants

In the May 2018 issue of the Financier Worldwide magazine, Hrvoje Vidan analyses effectiveness of restrictive post-employment non-compete covenants end elaborates on the role of the Croatian employment courts in interpreting their scope of application and validity.




May, 2018

Who's Who Legal's recognition in Labour & Employment 2017

After conducting a research of legal market in 89 jurisdictions and based on the opinion of law firms, clients and labour, employment and benefits experts from around the world, Who's Who Legal has recognised Hrvoje Vidan as one of the world's leading practitioners in this field.




February, 2018

Croatia: systemic risk and state intervention

In the article "Croatia: systemic risk and state intervention" the authors Hrvoje Vidan & Mihaela Malenica analyze contents and potential legal consequences of the recently adopted Special Administration Procedure Act popularly known as 'the Lex Agrokor' which was enacted following the major financial crisis that had engulfed the Agrokor Group – Croatia's largest privately owned company in the retail and food production sector.

Financier Worldwide, August 2017




May, 2017

Will major Croatian tax reform boost investments and reduce outflow of workers?

In the article "Will major Croatian tax reform boost investments and reduce outflow of workers?" the author Hrvoje Vidan analyses reasons for the introduction and possible outcomes of a comprehensive tax reform introduced by the Croatian Government as of 1 January 2017.




May, 2017

Investing in real estate in Croatia-tricks and traps to avoid

Hrvoje Vidan and Mihaela Malenica were invited to participate in 2016 October issue of the Financier Worldwide, a monthly magazine delivering in-depth commentary, research and practical analysis to bridge the gap between theory and practice in the complex world of finance and business strategy.

The article "Investing in real estate in Croatia-tricks and traps to avoid" provides an overview of basic features of Croatian real estate law by combining unique journalistic reporting and professional expertise.

Financier Worldwide, October 2016




October, 2016

Doing business in Europe

Honored by invitation to participate in the 2015 edition of Doing Business in Europe published by Thomson Reuters (Professional) UK Limited providing a general explanation of the laws of each country, Hrvoje Vidan accepted to contribute by elaborating on Croatian laws and the business environment outlining essential legal information for European businesses and their advisers.




December 23, 2015

Debt Capital Market

Hrvoje Vidan has been invited to cover the chapter - Croatia for the 2nd edition of Getting the Deal Through – Debt Capital Markets, published in association with Cleary Gottlieb Steen & Hamilton LLP.

The newly published and rebranded 2015 edition of Debt Capital Markets provides in-depth global insight written by local experts, covering a diverse range of relevant and up-to-date topics, including: public and private debt offerings, special instruments, derivatives and securities, transfers of debt, transaction liabilities and remedies, and the regulation of underwriters.




April 25, 2015

The Real Estate Review

Hrvoje Vidan contributed to the fourth edition of The Real Estate Law Review published by the Law Business Research Ltd in February 2015. The Real Estate Law review features 35 jurisdictions and gives an overview of the state of the global real estate investment market by providing updated information on key developments in a number of jurisdictions and their impact on the relevant domestic and wider global real estate market.

The Real Estate Law Review offers real estate practitioners and their clients an immediate and accessible summary of the position in the many countries covered, as well as the global real estate market as a whole and therefore may especially serve to the multinationals, in-house lawyers and legal professionals.




March 20, 2015
| | |
| --- | --- |
| Name of article | Publication |
| Validity of restrictive post-employment non-compete covenants | Lexology, June 14, 2019 |
| Termination of employment agreement of a pregnant employee during probation period | Lexology, June 13, 2019 |
| Basic facts about Croatian Corporate Income Tax as at 1 June 2019 | Lexology, June 7, 2019 |
| New regime for cultivation and production of industrial and medical hemp | Lexology, May 23, 2019 |
| The Court of Justice rules the Act on Nullity of Loans with an International Element Concluded in the Republic of Croatia to be against the EU Law | Lexology, March 4, 2019 |
| The new Act on International Private Law to enter into force on 29 January 2019 | Lexology, January 28, 2019 |
| New Islands Act | Lexology, December 10, 2018 |
| The new Act on Execution of Enforcement over Monetary Assets | Lexology, November 12, 2018 |
| New Employment Law: flexibilisation or just an attempt? | Lexology, October 14, 2014 |
| Government aims at protecting both creditors and debtors by recent changes to the Enforcement Law | Lexology, September 2, 2014 |
| Constitutional Court abolishes provisions on retroactive taxation of dividends | Lexology, July 1, 2014 |
| Croatian Constitutional Court rules against minority shareholders | Lexology, June 30, 2014 |
| Croatia to face changes in the field of Expropriation Law | Lexology, May 27, 2014 |
| Basic facts about the new Croatian Construction Law | Lexology, April 30, 2014 |
| The Amendments to the Takeover Act | Lexology, January 13, 2014 |
| Changes to the Enforcement Act | Lexology, December 11, 2013 |
| Croatia adopts the Strategic Investments Act | Lexology, November 28, 2013 |
| Taxation of dividends / Amendments of the Income Tax Act | Lexology, November 13, 2013 |
| The amendments to the Financial Operations and Pre-Bankruptcy Settlement Act | Lexology, October 10, 2013 |
| The new Leasing Act | Lexology, September 17, 2013 |
| Amendments to the Consumer Loans Act | Lexology, August 23, 2013 |
| New Gas Market Act | Lexology, July 29, 2013 |
| Amendments to the Land Registry Act | Lexology, July 11, 2013 |
| Amendments to the Employment Act | Lexology, June 27, 2013 |
| Access Information Act | Lexology, June 13, 2013 |
| Termination of employment due to operational needs | Lexology, May 29, 2013 |
| Conservative regime of the company's name and imposed restrictions go down in history | Lexology, May 2, 2013 |
| The Croatian new Civil Procedure Act | Lexology, April 23, 2013 |
| The Financial Operations and Pre-Bankruptcy Settlement Act | Lexology, March 25, 2013 |
| Novelty in regime of a limited liability company | Lexology, March 7, 2013 |
| Towards new employment regulation in Croatia | Lexology, February 13, 2013 |
| New enforcement regime in Croatia | Lexology, January 30, 2013 |
Employment & Labour Law – Jurisdictional comparisons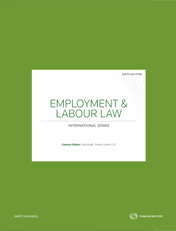 Following to the 2014 edition which has been accepted with the great interest, Hrvoje Vidan from Vidan Law Office has been asked for the second consecutive year to participate in writing the professional publication Employment & Labour Law – Jurisdictional comparisons, the Sixth edition, published by Thomson Reuters (Professional) UK Limited.
The publication is conceptualized as a practical guide for academics, legal professionals and students providing high-level insight into the employment law of more than 21 jurisdictions world-wide.
The Employment & Labour Law – Jurisdictional comparisons may especially serve to the clients having international operations, in-house lawyers or HR professionals as an excellent guide providing global overview of employment law.
LEGAL 500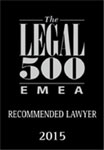 Following the last year issue of the independent survey Legal 500 - Europe, Middle East and Asia which acknowledged Vidan Law office as a recommended firm in the fields of Banking, Finance & Capital Markets, Dispute Resolution and Real Estate & Construction Law, this year Vidan Law Office has been included in the prestigious list of the top Croatian law firms in two new areas of law: Corporate & Commercial and Intellectual Property.